MORENO VALLEY, Calif. May, 26, 2017 – The Bureau of Land Management (BLM) has initiated Stage III Fire Restrictions for BLM-managed public lands within Los Angeles, San Bernardino, Riverside, Imperial, Inyo, Kern, and San Diego counties. The restrictions will remain in effect until further notice.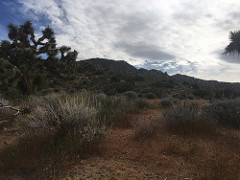 "Despite heavy winter rains, restrictions are needed due to current hot and dry weather conditions and an abundance of dry grass that could be easily ignited," said California Desert District Manager Beth Ransel.  "These types of hot and dry weather conditions can lead to wildfires that would threaten public land visitors, adjacent private lands and communities, and natural resources."
Stage III Restrictions state that setting, building, maintaining, attending, or using open fire of any kind is prohibited in designated areas. Controlled flame devices, such as portable stoves fueled by petroleum or liquid petroleum gas products, are allowed only by permit. Smoking is only permitted within enclosed vehicles or camp trailers. The possession or use of all fireworks, including "safe and sane", as well as the use of floating sky lanterns, fire balloons or acetylene balloons is prohibited. The 2017 Fire Restriction Order and a fire restriction map is available at:
www.blm.gov/programs/public-safety-and-fire/fire-and-aviation/regional-info/california/fire-restrictions
In addition, the BLM has initiated restrictions for recreational target shooting within western Riverside and San Diego counties for public lands managed by the El Centro and Palm Springs-South Coast Field Offices beginning May 26, 2017, and continuing until the end of fire season is declared. This order closes approximately four-million acres of public lands to recreational target shooting. Violation of this order is punishable by a fine up to $1,000 or imprisonment of up to 12 months, or both. A map of the recreational shooting closure can be viewed at the website above. The BLM greatly appreciates the public's cooperation in helping to minimize the number of human-caused wildfires. The public is reminded to exercise extreme caution when using fire and to follow these precautions:
1)  Make sure you have a five-foot circle cleared around your campfire.
2)  Be sure to have a shovel and plenty of water on hand and put the fire DEAD OUT before leaving. 
3)  Make sure cigarettes or cigars are put out when finished and disposed of properly. 
4)  Park motor vehicles away from locations where exhaust could cause grass or other combustibles to ignite.
The public can find additional information about wildfire on Cal Fire's website at http://www.readyforwildfire.org/One-Less-Spark-Campaign/. For more information about wildfire prevention from the BLM, please contact: California Desert District Office (951) 697-5200, Barstow Field Office (760) 252-6000, El Centro Field Office (760) 337-4400, Needles Field Office (760) 326-7000, Palm Springs-South Coast Field Office (760) 833-7100 or Ridgecrest Field Office (760) 384-5400.